No Time for Lies and Empty Fights

a Coyote Starrk fanmix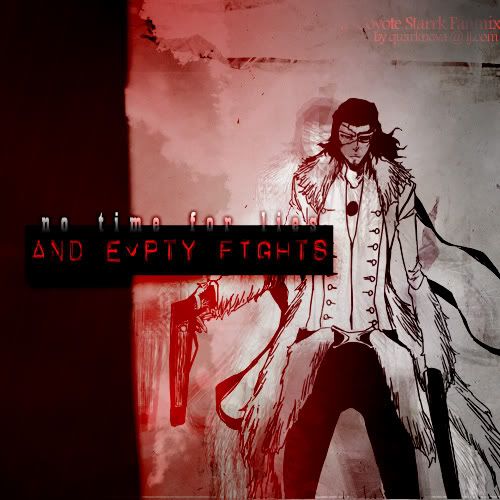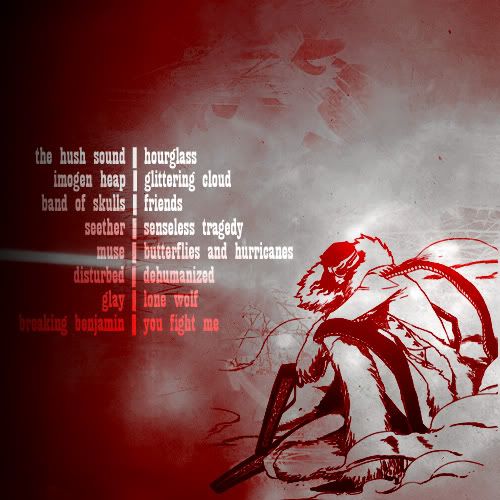 Hourglass
THE HUSH SOUND
[The Espada]

This is how it ends
We believe every lie and say we'll be friends
How long will it last
Before we scratch all the scripts and we rework the cast.
That's when the puzzle was finally pieced
We compromised until our bodies seized
To some we seem like colder creatures well
We were warm until we went to hell.



Glittering Cloud

IMOGEN HEAP

["Are they strong, so that they won't die for being near me?"]

I'm not always like this

It's something, I become

A terrible weakness

In my nature, in my blood

Save me, oh save me, save me from myself

Before I hurt somebody else again.



Friends
BAND OF SKULLS

All my life I've been searching for something
Something I can put my finger on
Maybe I've been living for the weekend
Maybe I've been living for this cyber soul.
I need love
Cause only love is true
I need every wakin' hour with you
And my friends cause they're so beautiful
Yeah my friends they are so beautiful
They're my friends.
They're my friends.



Senseless Tragedy

SEETHER

["I am alone"]

Now there's only me

God has made me weak

Now there's only me

God is apathy.

History's in the mind of the teller

Truth is in the tell.





Butterflies and Hurricanes


MUSE

Fights and battles have begun
Revenge will surely come
Your hard times are ahead.
Don't let yourself down
And don't let yourself go
Your last chance has arrived.


Dehumanized

DISTURBED

Lost in slumber, a threat to no one

Weak and humbled in my disgrace

Sweet departure, is what I long for

Careless moments to comfort me

Dead philosophy...

If I offer you my soul, will you carry me away?

I cannot be the only one, to be dehumanized again -- Left behind.






Lone Wolf


GLAY
[full translation]

In their adoration of the blues, the traitorous town looked south
What kind of shout did Buddy Holly make to the sky when he was on his deathbed?
Everyone's a clown, just wiping away one night's tears
Longing for love, floating through space, my dreams are melancholy.
With part of my heart unable to forgive the town I was born in, time went by
Unable now to tell anyone how I really felt, I sang a love song alone
That was the summer I was 15, the first time I punched someone
A libido ran through my fist, pain and a smile in symmetry.




You Fight Me

BREAKING BENJAMIN

[Shunsui Kyouraku]

You fight me, flat on my lonely face I fell

Finding in the end, I live well

In light of the life that I have found, it's coming down

I know it isn't real, but it's easy, to beat me (suck it in)

Life is sink or swim, love is blinding, no surviving

I don't know what I wanna be yet, but I can show that I need to see this

No time for lies and empty fights.

Download @ 4shared

COMMENTS ARE LOVE :) AND FEEDBACK IS APPREACIATED
(SPECIALLY IF YOU KNOW SOME GOOD BANDS THAT I COULD USE).