and I'm not Sentimental, but I know where I belong
a Kanda&Alma fanmix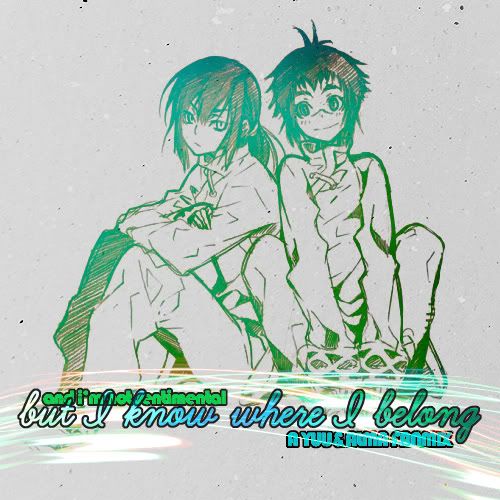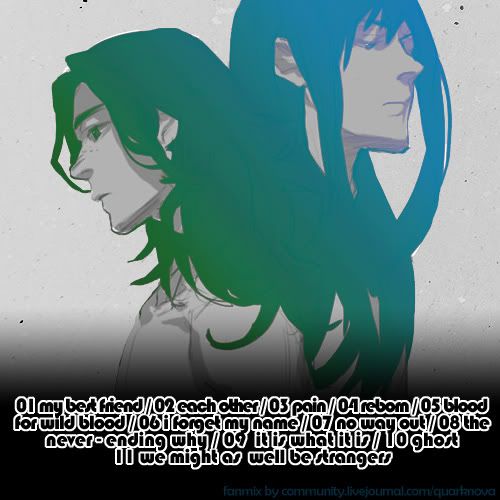 I know this was supposed to be an epic and dramatic mix but, what can I say? I'd rather focus on the good times than the bad times. Of course, this mix has its portion of drama. Enjoy it!
Best Friend
WEEZER
When everything is wrong I'll come talk to you
You make things alright when I'm feeling blue.
You are such a blessing and I wont be messing
With the one thing that brings light to all of my darkness.
Each Other
SKILLET
Time is short to live the life
Don't give up, friend of mine
Strength to rise one more time
Could you stand? Could you stand?
Pain
THREE DAYS GRACE
This life is filled with hurt
When happiness doesn't work
Trust me and take my hand
When the lights go out you will understand.
Reborn
DROWNING POOL
The hell I've been through, I saw my face in the bottom of a bottle
The hell I've been through, shot down, ran through, dragged through
The hell I've gone through, to be reborn, reborn, again, again.
Blood for Wild Blood
RAZORLIGHT
There is a stillness
To the thrashing of despair
There is a calm
In the rush of your stare
And I'm now beyond care.
I Forget My Name
TRAVIS
Stay with me, I didn't mean to hurt you
Don't you know
I didn't get where I am with much thinking.
And I'm not sentimental
But I know where I belong.
No Way Out
THE THEORY OF A DEADMAN
So take your thoughts and run away
From a god who ain't much of a know-it-all
So follow me and hold your breath again till I say when
Did I say when?

The Never-Ending Why
PLACEBO
And as the two of us rebel
Damn you all to hell
I wonder if that's all there is.
It Is What It Is
LIFEHOUSE
I was only trying to bury the pain
But I made you cry, and I can't stop the crying
I was only trying to save me
But I lost you again.
Ghost
THE ACADEMY IS...
Oh, no, this can't be it.
I start to sweat.
Haunted by all the things I've missed.
This can't be right.
I realize right then that it's me or him, yeah.
We Might As Well Be Strangers
KEANE
I don't know your thoughts these days
We're strangers in an empty space
I don't understand your heart
It's easier to be apart.